Plugin Ongkos Kirim is a WooCommerce extension that functions to calculate shipping costs throughout Indonesia (JNE, POS, Tiki, J&T, etc.). By using this plugin, you don't need to enter shipping data manually, because the plugin has been integrated with data from all expedition services in real-time. Simply activate the plugin, input the license key, and your products is ready to ship throughout Indonesia.
We highly recommend you to try the Trial version first (FREE) before purchasing this plugin!
Demo
How it Works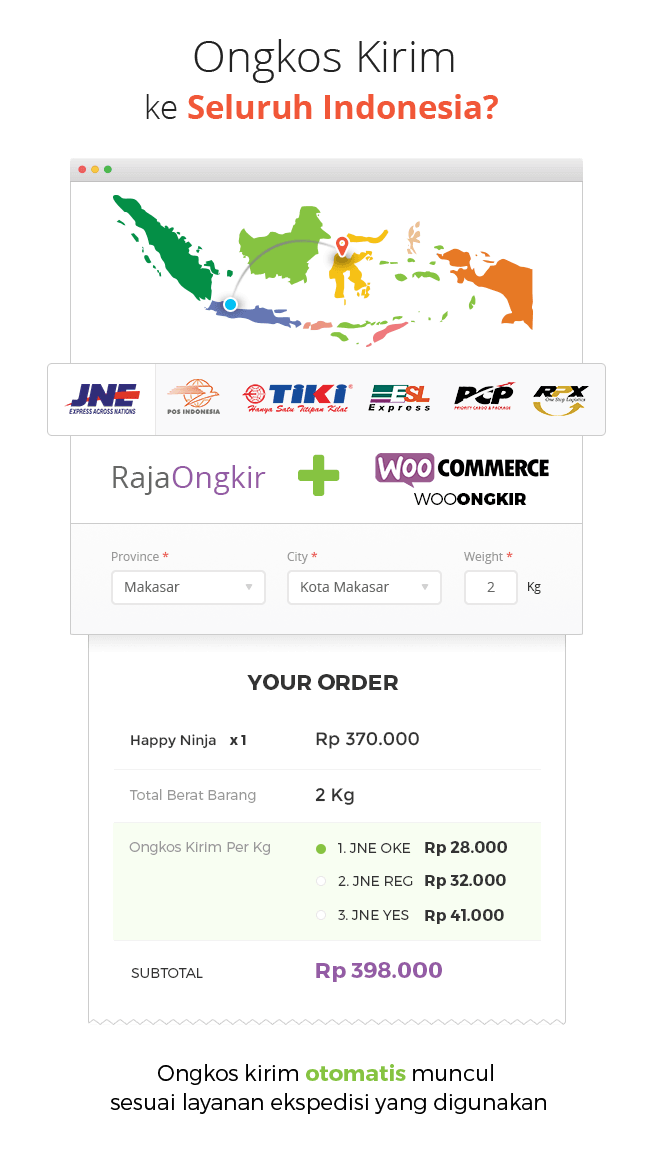 Features
Real-Time Shipping Costs Across Indonesia
Plugin Ongkos Kirim uses our own premium data / API so that it can provide real-time and up to date shipping calculations throughout Indonesia.
District Level Calculation
Plugin Ongkos Kirim supports calculating shipping costs up to the district level, so your customers will always get accurate shipping costs to their destination.
Supports Up to 27 Expedition Services
Plugin Ongkos Kirim supports many expedition services as an option. The expedition services used include: JNE, Tiki, POS Indonesia, etc.. and support multi-shipments on the checkout page, so that buyers can sort out which expedition services they want to use with price comparisons. And the calculation of shipping costs is automatically adjusted to each expedition service.
Fully Integrate with WooCommerce
WooCommerce is the most popular e-commerce plugin on WordPress, and Plugin Ongkos Kirim integrates fully with the WooCommere system. You don't even need to do any configuration for the integration. Just install it and Plugin Ongkos Kirim is ready to use.
Easy to Install & Use
Installing and using Plugin Ongkos Kirim is as easy as a few clicks.
Multi Language
Plugin Ongkos Kirim uses multiple languages, namely Indonesian and English, for your flexibility and convenience.
Professional Technical Support
Our professional support team is ready to help you if you have any difficulties in using Plugin Ongkos Kirim. Use our support forum to solve your problems. Premium buyers will get priority support on the forum
Money Back Guarantee
We believe we have created the best product to meet your needs. But if the plugin is broken/incompatible with your theme, we provide a 100% money back guarantee within 7 days. (Terms and conditions apply)
Try Plugin Ongkos Kirim
LIVE DEMO
Admin Access:
| | |
| --- | --- |
| Username | coba |
| Password | 123456 |
License Comparison
| Usage | Trial | Personal | Multi | Developer |
| --- | --- | --- | --- | --- |
| Use the product in multiple sites | | | | |
| Websites | 1 Site | 1 Site | 5 Site | 25 Site |
| Product update * | 7 Days | 1 Year | 1 Year | 1 Year |
| Price | Free | $ 20 | $ 35 | $ 100 |
| | Buy | Buy | Buy | Buy |
*) The license duration starts from the date of purchase, not the date of activation.
Awesome Support
Priority Support
If you have any difficulties in using the plugin, please ask the support forum. Our support team will be happy to help you.