Sangar Slider
Sangar Slider is a premium high quality responsive WordPress slider plugin. With smooth animation, layered slide, touch and swipe support, easy to use and trully responsive. Packed with premium skins and template, and also easy to create your very own custom template for your slider.
How it Works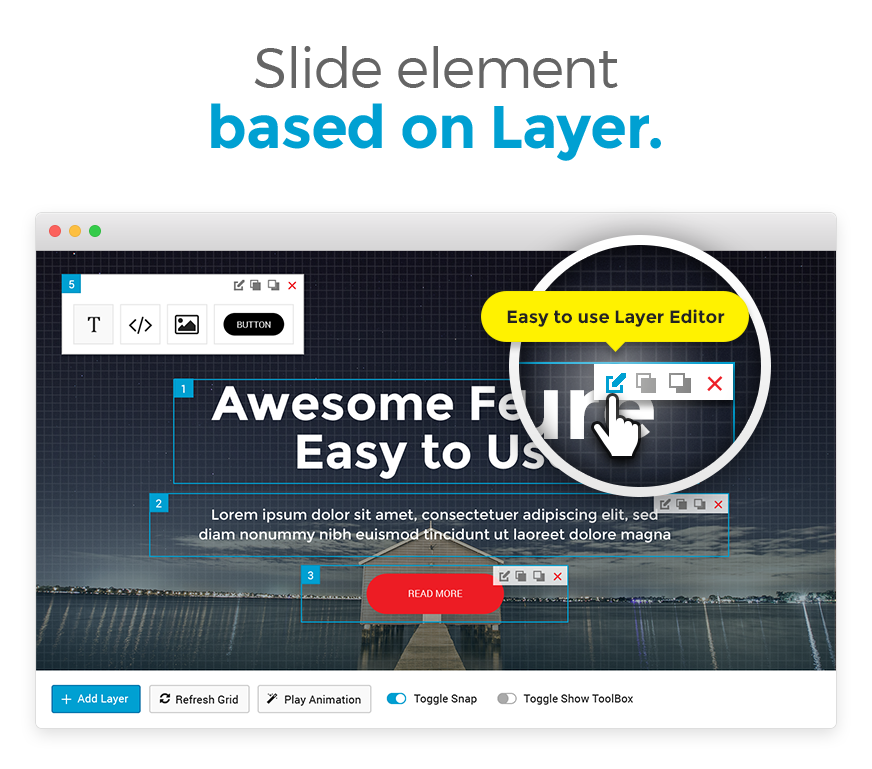 Features
Fast and Smooth Animation
Responsive wordpress slider that using modern technologies to assure great user experience. With Sangar Slider crisp animation, you can navigate your slides. Fast, smooth, ease and beautiful on the eyes!
Wide Range of Slide Content Supported
Sangar Slider supports many slide contents, such as HTML, TEXT, IMAGE, SOLID COLOR, and even VIDEO (Youtube/Vimeo/HTML5). You can add almost anything in your slide!
Ultra Responsive
Sangar Slider is responsive at its core and gives you the best viewing experience from any screen size. With mobile in mind, you need no worries about your slider on any mobile devices.
Touch and Swipe Gestures
Sangar Slider is optimized perfectly for touch device. Not only responsive and mobile friendly, it also support for Touch and Swipe Gestures for easier navigation through mobile screen devices.
Animated Layer
Sangar Slider gives you the best user experience with smooth and fast Animated Layer. This Animated Layer is so easy to use, that you only need a few clicks to make beautiful Animated Layered Slides.
Premium Slider Templates
Sangar Slider Premium shipped with many premium templates, which were beautifully crafted and coded for better user experience. You can even create your very own personal template using our API system.
Developer Friendly
We love devs! You can create your very own custom template with your slide. With extensive API, template system and documentation, you can transform your Responsive WordPress sliders into almost anything that you want!
Drag and Drop Editor
Sangar Slider is very easy to use, it's so easy, you only need to drag and drop your content to make a beautiful slider! . With Drag and Drop feature, you can create your slider faster and easier.
Easy to Use
Sangar Slider is just as easy to use as you'd hope. With simple user interface and configuration, you will run Sangar Slider in no time.
Professional Support
Use our support forum to solve your plugin problems should you encounter one. Premium customers will be prioritized in the forum.
Money Back Guarantee
We believe that we have crafted the best available tools for your needs. But if the plugin is broken/not compitable with your theme, within 7 days of your purchase you can get 100% refund of your money (Term and condition applied)
Try Sangar Slider right now!
License Comparison
| Usage | Personal | Multi | Developer | Master |
| --- | --- | --- | --- | --- |
| Use the product in Multiple Site | | | | |
| Product Update | 1 Site | 5 Site | 25 Site | Unlimited Site |
| Priority Support on Forum | | | | |
| Product update | 1 Year | 1 Year | 1 Year | 1 Year |
| Price | $15 | $25 | $35 | $50 |
| | Buy | Buy | Buy | Buy |
Awesome Support
Priority Support
If you have any trouble with our problem, feel free to discuss it on the support forum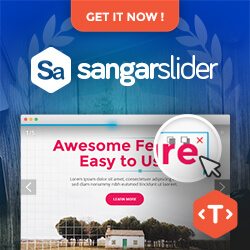 ---
---
---
---
Product Bundles
Items bellow is bundled with the purchase of this item
---
Purchase Now